Register on Eventbrite:
https://www.eventbrite.com/e/407616079667
ABOUT THE SPEAKER
Rick and Anne Drushal live in the Rose Garden area of San Jose with their four children (Thea, Tripp, Evie, Mae) and dog (Kai). They met in 2003 on the first day of Freshman Orientation at the College of Wooster in Ohio and started dating shortly thereafter. After college, Rick took a job with Accenture in Chicago and Anne attended Loyola University Chicago's law school. They were married in Colorado in 2008 and moved a few more times before settling in California and starting their family.
Rick now works for Apple as an engineering manager, and Anne is a stay-at-home mom. Together, they love volunteering at Canyon Heights Academy, where all four kids attend school. They also attend St. Leo's Parish and are active auxiliary members of the Order of Malta.
ABOUT THE EVENT
At our Executive Speaker Series, attendees have opportunities to network while enjoying complimentary appetizers and drinks prior to the talk. During the presentation, guest speakers share their unique life story as it relates to their professional and spiritual journey. While the specific topic and focus will vary depending on how each speaker tells his or her story, general themes include lessons on navigating different career choices and progression, seeing examples of how to integrate faith into one's daily life, and hearing advice on growing family and personal relationships. Each talk culminates with a Q&A session with our speaker where audience members can ask questions.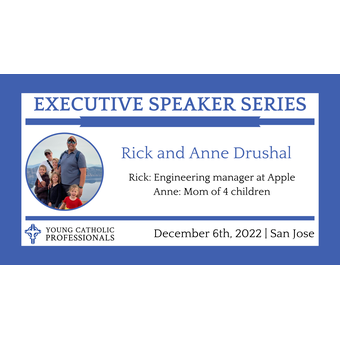 St. Williams 611 S El Monte Ave, Los Altos Hills, CA 94022