Register on Eventbrite:
https://www.eventbrite.com/e/february-executive-speaker-series-with-tony-mata-tickets-254147410747?aff=ebdsoporgprofile
ABOUT THE SPEAKER
Anthony Mata is the current police chief for the City of San José. As a law enforcement professional of over 28 years, Anthony brings a unique perspective to his spiritual life gained from both his personal life and professional experiences. As a result of these experiences, Anthony knows how invaluable his faith is to all aspects of his life so that he can positively impact others while also further strengthening his faith.
Anthony learned the value of faith at an early age growing up in the inner city of Chicago. As the eldest of seven children, Anthony's hard work, education, and dedication has helped him achieve his goals and guide his siblings. He recently learned that faith is a journey which has inspired and supported him to continue to help others and to further develop his faith. Currently, he is a member of St. John Vianney Catholic Church's Parish Council and the chair of St John Vianney's Catholic School's Advisory Committee both in San Jose, CA.
Anthony earned his Bachelor's in Criminal Justice from the University of Illinois at Chicago and his Master's in Public Administration from San José State University. He is a member of several law enforcement executive associations and has received numerous city, department, and community awards and accolades.
Anthony and his wife Lorena have been married for 19 years and have three children. His wife and children are graduates of St. John Vianney Catholic School and the Mata family are parishioners of St John Vianney Catholic Church.
ABOUT THE EVENT
At our Executive Speaker Series, attendees have opportunities to network while enjoying complimentary appetizers and drinks prior to the talk. During the presentation, guest speakers share their unique life story as it relates to their professional and spiritual journey. While the specific topic and focus will vary depending on how each speaker tells his or her story, general themes include lessons on navigating different career choices and progression, seeing examples of how to integrate faith into one's daily life, and hearing advice on growing family and personal relationships. Each talk culminates with a Q&A session with our speaker where audience members can ask questions.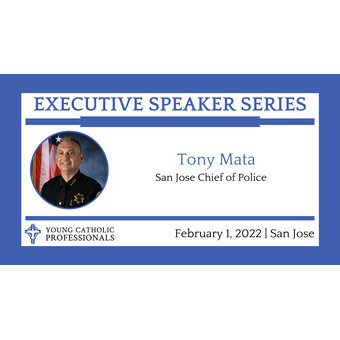 St. John Vianney Church 4600 Hyland Ave, San Jose, CA 95127