Register on Eventbrite:
https://www.eventbrite.com/e/407598908307
ABOUT THE SPEAKER
Barbara Kalkis has alternated her career life between teaching, corporate management and [–for the past 27 years –] owner of the high-tech consulting firm, Maestro Marketing & Public Relations.
Her avocations include teaching English conversation [for the County], and serving as a lector, eucharistic minister, and bereavement group facilitator at her parish. Her articles and poetry have been published throughout the United States and Canada, and her book, Little Ditties for Every Day…A collection of thoughts in rhyme and rhythm, was published in 2021. The one constant in her life from birth has been her Catholic faith. It is the centerpiece of her identity and has been the mainstay and guidance system throughout all her life experiences. Barbara holds a Master of Education degree in English from University of Pittsburgh.
ABOUT THE EVENT
At our Executive Speaker Series, attendees have opportunities to network while enjoying complimentary appetizers and drinks prior to the talk. During the presentation, guest speakers share their unique life story as it relates to their professional and spiritual journey. While the specific topic and focus will vary depending on how each speaker tells his or her story, general themes include lessons on navigating different career choices and progression, seeing examples of how to integrate faith into one's daily life, and hearing advice on growing family and personal relationships. Each talk culminates with a Q&A session with our speaker where audience members can ask questions.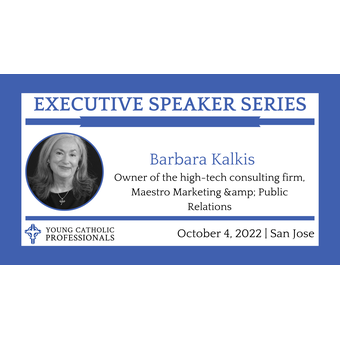 St. Lawrence the Martyr 1971 St Lawrence Dr, Santa Clara, CA 95051