Mass at the seminary at 2pm with Father Anthony before the Gala!
Register on Eventbrite: https://www.eventbrite.com/e/407561636827
$10 online
$20 at the door
Free for members, priests, and volunteers!
Come join us for our YCP Silicon Valley Gala Birthday celebration! YCP has been an amazing success in building up our young adult Catholic community in the Silicon Valley and we want to celebrate with you! Come dressed in your best cocktail attire for our biggest party at the beautiful St. Patrick's seminary with amazing food, drinks, and DJ! All past YCP speakers, board members, core team members, volunteers, and attendees are invited!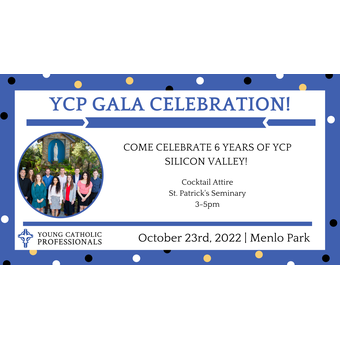 St. Patrick's Seminary 320 Middlefield Rd, Menlo Park, CA 94025